Mission
To nurture, advance and protect the health and well-being of children by sustaining an exceptional faculty.
Vision
To be the leading faculty for children's health by providing exceptional and innovative care.
Values
Excellence – Setting and achieving the highest standards in all we do including clinical programs & research
Innovation – Advancing children's healthcare by leading with new ideas and technology
Service – Delivering unmatched personal experience
Collaboration – Working together with our colleagues and partners to achieve our mission
Compassion – Caring with sensitivity and respect
Accountability / Integrity – Serving as dedicated stewards of the lives and program resources entrusted to us
Background
We first formed in 1975 as the CHOC Private Practice Plan. In 1984, we became the CHOC Subspecialty Medical Group. In 1992, we changed our name to CHOC Pediatric Subspecialty Faculty with over 30 physicians. Today, we have over 400 practitioners comprised of physicians and allied health professionals. We are dedicated to providing the same superior level of care to our patients and families that we expect for our own children. Compassion, quality and dedication are core essentials of our practice as we aspire to provide the optimal environment for pediatric subspecialty care.
We have partnered with CHOC on its journey to excellence and the regionalization of specialized pediatric care as a collaborative team of pediatric subspecialists with supportive staff of wide-ranging pediatric professionals including play therapists, nutrition experts, counselors, and nurses. These highly trained healthcare providers strive each day to fulfill our mission to advance the health and well-being of children through excellence in clinical care, education, leadership, and research. We equally strive for our physician wellness and work-life balance.
We provide a unique resource to the community through teaching and training residents along with pediatric subspecialty fellows. The collective scholarship of our faculty includes a remarkable record of research and publishing and a national reputation as a leading pediatric and neonatal training site. Many of our physicians have had our own children treated at CHOC. We are proud to be able to deliver this level of outstanding care to the children and families whose lives we touch.
Structure
The PSF is incorporated. Physicians are awarded shares based on seniority with a maximum of 1,000 for any single physician. Shares/votes are utilized to ratify divisional and PSF wide decisions. PSF is a democratic organization, and the number of shares an individual has translates to the number of votes they have. There is an elected BOD (Board of Directors) with 11 voting physician members, each serving a 2-year term with staggered reelection of half of the members each year.
Divisions have autonomy for finances, call schedule, and clinical operations of the Division etc. There is no cross subsidization between divisions. The Division Chiefs are evaluated annually by Divisional members and appointed/reappointed annually by the BOD. Any shareholder may review divisional finances, and upon request all corporate documents of any type are available for review.
The BOD sets policy with approval of the shareholders and provides an oversight function to ensure all details of any contractual obligation have been reviewed and occasionally to assist in resolving divisional issues that are brought to the BOD's attention. Core documents of the PSF are the By-Laws, the individual Physician Employment Agreements, and the Physician Service Agreement with the CHOC Foundation. PSF entered the medical foundation model with CHOC in 2011.
CHOC Children's Specialists are the PSF physicians of the CHOC Medical Foundation (CMF). PSF provides physician and extender clinical care for CMF. Funding of all programs is determined through the PSA with CMF. The Joint Partnership Council is the CMF shared governance structure between PSF and CHOC. CS Staff work with PSF Staff on administration.
PSF Board of Directors
Sameer Pathare, MD
PSF President &
Hospitalists
Division Chief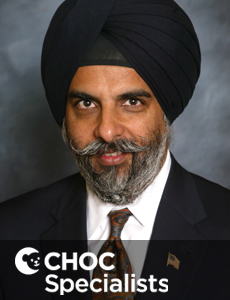 Gurpreet Ahuja, MD
Board VP of Surgery &
Otolaryngology
Division Chief
Nita Doshi, MD
Board VP of Medicine
& Cardiology Division

Kushal Bhakta, MD
Board Treasurer
& Neonatology Division

Neal Nakra, MD
Board Secretary &
Pulmonology
Division Chief
Vijay Dhar, MD
PSF Past President &
Neonatology
Division Chief
Paul Lubinsky, MD
PSF Past President
& Critical Care Division

Diane Nugent, MD
Hematology
Division Chief
 
Susan Gage, MD
Pulmonology Division

Mustafa Kabeer, MD
Pediatric & Thoracic
Surgery Division
Delma Nieves, MD
Infectious Disease Division

PSF Administration
Robert McCann
Chief Administrative
Officer, PSF
Brittney Hoover
Assistant Director, PSF

Hilda Williams
Administrative
Assistant, PSF
Key Achievements & Attributes
PSF has made significant contributions to the well-being of children in Orange County and offers the following attributes:
One of the largest Pediatric groups with 400 medical professionals and 24 clinical subspecialties.
The largest independent Neonatology network in California. Currently managing 300+ beds.
Continues to provide care to approximately 95% of all CHOC patients.
400+ research and publications to date
PSF Divisions
Allergy & Immunology
Cardiology
Cardiothoracic Surgery
Critical Care
Endocrinology
Gastroenterology
Hematology
Hospitalist
Infectious Disease
Interventional Radiology
Metabolic Disorders
Neonatology
Nephrology
Neurology
Neurosurgery
Neurodevelopmental Medicine
Oncology
Ophthalmology
Otolaryngology
Pediatric General & Thoracic Surgery
Palliative Care
Physiatry / Psychology
Psychiatry
Pulmonology
Rheumatology
Location of the Pediatric Subspecialty Faculty (PSF) Administration Office
CHOC Commerce Building, 12th Floor
505 South Main Street, Orange, CA 92868
Contact PSF Administration
Email: psfadministration@choc.org
Hilda Williams, PSF Administrative Assistant – 714-509-3408
Brittney Hoover, PSF Assistant Director – 714-509-8948